Calvert County Heat Pumps, Heating & Cooling System Installation & Service Repair
Boothe's Heating & Air Conditioning Contractors LLC is a locally owned and operated full service residential, business and commercial heating and air conditioning contractor. We have been repairing, servicing, and installing American Standard equipment and others in Calvert County for 20 years. Boothe's specializes in the repair, maintenance and replacement of existing residential and commercial comfort control systems as well as oil tank installations, oil furnaces, gas furnaces, propane furnaces and radiant heating.
Some of our many Calvert HVAC services include heating repair in Calvert Maryland, furnace repair in Calvert Maryland, oil furnace repair in Calvert Maryland, gas furnace repair Calvert Maryland. We are a heating contractor in Calvert Maryland, oil furnace contractor in Calvert Maryland and gas furnace contractor in Calvert MD.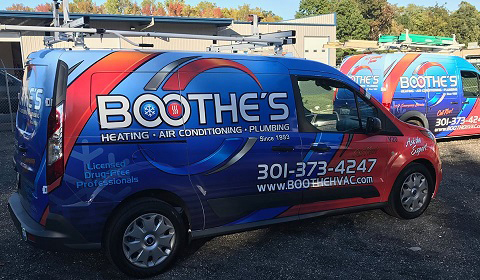 Services and System Types: Calvert HVAC
Heat Pumps
Heat Pump Service & Repair
Air Conditioning
Air Conditioning System Service & Repair
Heating & Cooling Zoning
Heating & Cooling System Service Agreements
Heating & Cooling System Service & Repair
Direct Heating & Cooling System Replacement
Heating & Cooling System Service & Repair
Oil Tank Installations
Oil Tank Service & Repair
Oil Furnaces
Oil furnace Service & Repair
Gas Furnaces
Gas Furnace Service & Repair
Propane Furnaces
Propane Furnace Service & Repair
Radiant Heating
Radiant Heating Service & Repair